ENVALVE - THE SOLUTION TO BLOW-BY AND OIL LEAKING
As of MAY 2020 the total cost for the EnValve is $62.50
If you want to see how well an EnValve prevents oil leaks watch this video.
The EN-VALVE™ (US Patent Number 5542401**) is a replacement PCV valve designed to automatically seek a vacuum in your engine's crankcase. It creates a self adjusting vacuum based on the engine mode and wear. The result is the removal of blow-by in even the worst of engines. When all blow-by is taken out of the engine, the splashing oil does not pick up the toxins normally present in every crankcase. Emissions are reduced, your engine and your oil stay cleaner and wear on your engine is greatly reduced. Since there is always a negative pressure inside the crankcase (vacuum) there is no chance for a drop of oil to seep out from a leaking gasket so those oil leaks are eliminated. Leaking main bearing seals are either stopped or reduced depending on how badly they are leaking. For about the same cost as 2 oil changes you can purchase the EN-VALVE™ system, stop oil leaks, and help conserve our natural resources and clean our air through reduced tail pipe emissions and fewer oil changes. You can save several times that amount in a single year's use of the product. The EN-VALVE™ system will provide significant maintenance cost savings to you over the life of your vehicle through cleaner combustion which produces less engine wear and longer engine life. So if you are tired of cleaning that oil from your air cleaner and want a cleaner running engine with less oil leaks then get an EnValve for your car. If you want to purchase an EnValve for your car or truck, read on.
Before ordering an Envalve do the following. 1.) Remove spark plugs and do a compression test. If any of the cylinders is much lower than the rest of them it is possible that you have a cracked piston or a hole in a piston. To rule out that possibility you can follow the procedures outlined in this article - you will be able to tell if it is a leaking piston or a burned valve ( http://www.misterfixit.com/lowcompr.htm ). The Envalve is designed to handle normal wear of the piston rings but a hole in the piston might cause problems and you should probably perform an engine overhaul at that point. 2.) With a carbureted engine, with the engine running remove the vacuum line from the PCV valve and see if the engine runs really rough or even stalls dead. This is to see if your vacuum source for the Envalve is in good order. If it stalls or runs very roughly then you have sufficient vacuum. If not then you may have a blockage in your intake manifold or the valves are so worn that you can not generate sufficient vacuum to allow the Envalve to work properly.
If you want to order an envalve please check the picture of it below to make sure your PCV valve has the same form and dimensions.
The fat end is 3/4 inch diameter and the skinny end takes a 3/8 inch vacuum line. It is a direct replacement for your PCV valve and can be installed in less than 15 minutes including washing your hands at the end. If the fat end is 1/2 inch then you will need to puy a PCV grommet from Autozone or some other store for around $1.50. Look at the picture http://www.misterfixit.com/grommet.jpg . Part number is 42061.
The owner of EnValve, Emil, has asked me to sell his product from my website. It seems that he is too busy selling these devices elsewhere and doesn't have the time to answer all of your mailnotes. I am going to try this - I will be using Pay Pal** to receive payments from you. Check out their website and see how it works. You will need to set up a free account with them and there is no charge to you to use their services to send me money. If you fill in my e-mail address ( bobhewitt@misterfixit.com ) when you sign up I will get five bucks which will help me keep this website afloat! If you decide to purchase an EnValve then send me a mailnote with your mailing address, year, make and engine size then go to pay pal and send me the payment of $115.00plus $5.00S&H. [see below for price update] and I'll send one out to you the day I receive the payment (please note that I will not accept personal checks - money orders are an acceptable means of payment). Remember this is a 100% guaranteed product or your money back minus S&H and 10% restocking fee. So far Emil has sold over 2000 of these units and has never had to refund a penny! The product works!!
---
Update July 2003 - I get questions all the time asking if I still sell this device. YES I do and have sold many to a lot of my satisfied customers and have never had to refund one penny!! This device is on two of my own cars and it works like a charm!!!
Send me an E-Mail giving me the year, make and size of your engine. Then just go to PayPal and send me the $120.90 - PayPal will notify me of your order and I will ship an EnValve out to you the same day - it will go to the confirmed address you have supplied to PayPal.
---
---
Update November 2004 - I have been asked if I still sell the envalve . .Yes, and I have not had one refund request!! Speaking of which, if you are not satisfied with the envalve I will refund your money minus a 10% restocking fee and shipping and handling. Also some info from PayPal; they will still honor their seller/buyer protection plan even if your shipping address is not verified, however they require a "proof of shipping" document from the shipping company which means special handling and an added fee of $5.00.
Misterfixit is a Verified Member of PayPal. Just go to the link below by clicking on the gold seal to learn more about what this means to you as a paying customer using PayPal.
Sales have been a bit slow so I am discounting the price to $39.95 plus $5.95 shipping and handling.
=====================================================================================
June 2006 - sales are going strong with one refund in 6 years to someone who sold the car before the EnValves arrived!! However due to rising costs, and having eaten the costs for the past few years, I am forced to increase the cost of the EnValves by 5 dollars. The new price is $44.95 and shipping and handling has gone up by 2 dollars to $7.95 making the total now $52.90. Remember this is 50% of the original cost!! It is still discounted! It is still a super bargain and the product works so well that I get positive feedback from all of my customers with some returning to buy additional EnValves for their other vehicles!!
CANADIAN RESIDENTS PLEASE NOTE: THERE IS AN ADDITIONAL $25 USD FEE FOR SENDING TO CANADA SINCE I MUST SEND THE ENVALVE VIA FIRST CLASS MAIL WITH A REGISTERED/return receipt requested REQUEST. I HAVE LOST TOO MANY CANADIAN SHIPMENTS THAT HAD NO TRACKING AVAILABLE AND I CAN'T AFFORD ANY MORE!!!
=======================================================================================
JAN 3, 2007 - TODAY I SHIPPED MY FIRST ENVALVE TO AUSTRALIA! IT WAS QUITE A LEARNING EXPERIENCE. THERE IS NO WAY TO GET A TRACKING NUMBER AS THERE IS WHEN I SHIP DOMESTICALLY, SO I HAD TO SEND IT REGISTERED, INSURED MAIL. ALSO I HAD TO FILL OUT EXPORT PAPERS FOR CUSTOMS. NOW THAT I HAVE DONE IT ONCE I WILL TRY IT AGAIN (I DON'T KNOW IF IT HAS ARRIVED AT ITS DESTINATION YET). THE COST, INCLUDING S&H, TO SEND ONE "DOWN UNDER" IS $85 USD TO WESTERN AUSTRALIA - I ASSUME IT WILL BE THE SAME SHIPPING COST ANYWHERE IN AUSTRALIA BUT LET ME KNOW WHERE IN AUSTRALIA YOU ARE AND I WILL QUOTE YOUR COST.
=========================================================================================================================
April 2010 still going strong selling the Envalve! We all dearly miss Emil, the inventor of the Envalve but Sandy, his wife, has decided to keep selling Envalves since we all know that is what Emil would have wanted.
============================================================================================
January 2012. Looks like the recession is slipping sales however I am keeping the price at pre-recession discounted price of $44.95 plus $7.95 S&H so it is still $52.90.
Looks like the Post office rates are making me lose money so the price has to increase a bit. I have held off doing this for 10 years but the time has come. The price for the Envalve is now $62.50
Using Zelle send payment to bobhewitt1967@gmail.com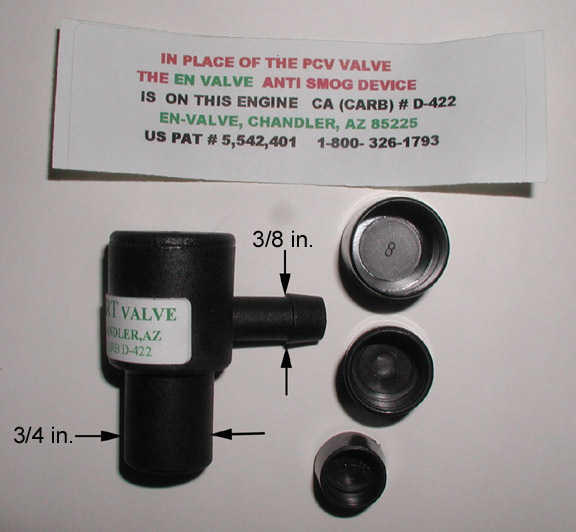 ** http://patimg1.uspto.gov/.piw?Docid=5542401&idkey=NONE
Back to the index page (top level)
Copyright © 1996, 1997, 1998, 1999, 2000, 2006, 2012 -2020by Bob Hewitt - All rights reserved